Hi there everyone
Happy half term to all the parents in the UK - I hear all the parents breathing a sigh of relief, and the teachers gulping down the wine dreading Monday morning!
Its time once again for another challenge over at Crafting with friends. As usual its anything goes and we are kindly sponsored by Sheepski designs (Hello Andrea if you're reading!)
Andrea is starting out with some fabulous images found
here on Etsy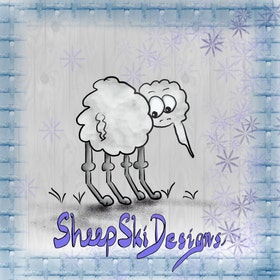 I used Kitty Mannequin Model. I thought she looked so sophisticated that she didn't need loads of embellishment, so I went for texture and dimension instead.
I printed the cherry papers from pink petticoat which is sadly now retired :( And I paper pieced her skirt. I then coloured the remainder of the image in promarkers before fussy cutting her out.
I layered up the cherry papers on black for contrast, embossed a piece of plain white card stock with a little heart embossing folder and layered this also onto black with a punched edge. both this and the image are attached with foam pads to give dimension. The flowers are a sizzix stamp and die set that I coloured again with promarkers before die cutting them out (my tiny sapphire machine is a godsend for these small dies, they don't move about as much!)
I finished the card with glossy accents on her belt, bag and the roses, and a stamped sentiment in the corner
I hope you like her!
I'd like to enter this into:
Jades sparkling butterflies - anything goes
Crafting with an attitude - anything goes
Aud Sentiments - anything goes
7 kids college fund - anything goes
Crafting for all seasons - make it girly
I love promarkers - inspired by a song
(Model by Kraftwerk, showing my age now!)
Through the craftroom door - anything goes
Thanks for stopping by - please leave me a message if you land here. Blog emails are so much nicer than junk from wowcher or car insurance firms!
See you soon
Rachael
x